Nissho Light Section Measuring Microscopes
| | |
| --- | --- |
| | Nissho Light Section Measuring Microscopes detect depths and heights with a non-contact optical method. They detect the unevenness of surfaces without touching them using light rays, and are ideally suited for measurements in the range of 5 microns to 50 millimeters. |
Projection slit light, reference slit light, and incident light are changed from tungsten lamp to durable halogen light source to ensure optimum illumination on the object surface for fatigue-free, precise measuring work.
The viewfield of object measuring surface covered by halogen light is widened and precision measuring work is possible by non-technical people without any special training.
Projection slit, vertical illumination and standard slit illumination are changed to the combination of halogen lamp and fiber optic guide.
The improvement in illumination and area create a fatigue-free measuring environment.
A large specimen table for large-size objects can be installed.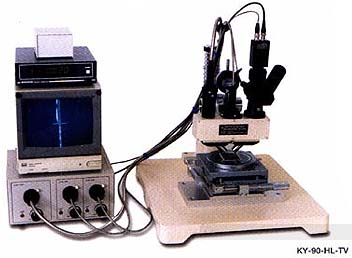 SPECIFICATIONS:
Optical systems
Erect image, 10X eyepiece 45° inclination (monocular or binocular)
Total magnification
100X Objective lens 10X as standard (5X, 15X & 20X as option)
Standard slit
Two parallel lines as standard (optional centerless cross)
Projection slit
10 Micron (darkfield) as standard. Half-mirror 10 micron type as option. Also optionally: 3 Micron (darkfield), 30 micron (darkfield), and 80 micron (darkfield)
Illumination
Three halogen illuminators and 3 fiber optic guides
Focusing mechanism
Rough movement: travel of 100mm by main column and screw
Fine movement: travel of 2.0mm
XY table
50 x 50mm travel, micrometer 10 µm reading, digital 1µm reading
Size of base
450mm x 500mm x 50mm ("SB" type base)
Video equipment
Monochrome 9 inch or color 14 inch monitor
Z-axis measurement
Digital 1 µm reading
The High Micron Scope (Type 2), 0.1 µm reading, produces a large increase in resolution using the light section method. An industry-leading lateral expansion ratio of 4.5X (previous industry standard 1.4X) is achieved.
Exceptionally suitable for non-contact measurement of fine concave-convex surfaces.
An anti-vibration device ensures repeatability of reading and measuring operations and is provided as a standard specification.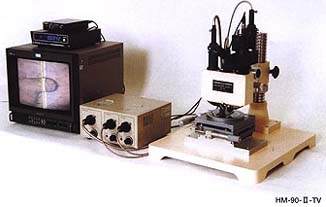 STANDARD SPECIFICATIONS:
Monocular eyepiece
10X (field of vision = 1.5mm)
Objective lens
10X (HM-90-II type)
Working distance
6mm
Total magnification
100X
Horizontal expansion ratio
4.5X
Total horizontal magnification
450X
Basic slit (reference slit)
"Parallel" type
Projection slit
10µ half-mirror
Z-axis reading on digital counter
1~10mm
Minimum reading
0.1µ
Video System
High resolution camera, 14" color monitor
Optional accessories
Objective lens 20X (t.h.m. = 900X, w.d. = 6mm)
Color video printer
Binocular eyepiece
The Micron XYZ Measuring Scope is a 3-dimensional measuring microscope for a wide range of applications. It provides non-contact measurement of micro depth and height, employing the light section principle. Also vertical and longitudinal measurement and microscopic observation can be performed.
Useful for quality control of large LCD plates. Precise micro measurement work is possible for X, Y, and Z axes on the "MB2" type large sliding base. Non-contact 3-dimensional measurement can be performed without difficulty by even a non-experienced operator using the TV monitor and XYZ axes electronic readout system.
It offers a large specimen table for large-sized measuring objects.
FEATURES:
Accurate measurement performed by coinciding X, Y and Z axes with the measuring position on the built-in reference line.
Measured value is displayed digitally and units of 1 micron to millimeter can be used.
Observation of the measured surface can be performed on a video monitor.
Coincidence of measurement and observation makes it easy to operate and the operation extremely effective.
Various Z axes can be measured by numerous kinds of optical slits.
Non-contact precision optical measuring microscopes for micro linear dimension which provide easy and precise measurement based on "double focusing" system.
Labtek is the authorized North American dealer for Nissho products. For more information on a product or to request a price quote, please contact us by phone at 877-837-7260 (toll free) or 408-871-7700, fax 408-871-7800, or email us at labtekdiv@labtek.net.
[Home] [Microscopes] [Illumination] [Video & Lenses] [Measuring]
[Services] [Vendor List] [Specials]
Copyright © 2010, Terran Technology, Inc.; Labtek Division
Last modified: November 06, 2012