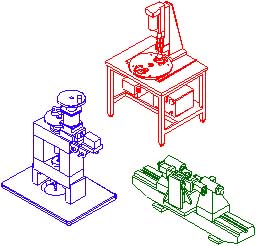 SYSTEM INTEGRATION AND TOOLING
Labtek provides turnkey tooling, fixtures and machines to your specifications - test stations, assembly machines, and Cartesian robots. We have the resources to accomplish any task - large or small. We operate in a 3-DCad environment, and all Cad files are available in IGES, DWG and DXF format.
We provide all forms of documentation, including schematics, assembly drawings, BOM generation, manuals or other types of documentation you may require.
MICROSCOPE REPAIR AND REFURBISHMENT
Labtek provides knowledgable and expert repair service or refurbishment of your microscope per the manufacturer's specs. If the microscope is found to be unrepairable, we can suggest cost effective alternatives.
CUSTOM SYSTEM DESIGN
If you are in need of a specialized microscope or vision system, we can create a custom system that will suit your individual or company needs.
For more information on a product or to request a price quote, please contact us by phone at 877-837-7260 (toll free) or 408-871-7700, fax 408-871-7800, or email us at labtekdiv@labtek.net.
[Home] [Microscopes] [Illumination] [Video & Lenses] [Measuring] [Vendor List] [Specials]
Copyright © 2010, Terran Technology, Inc.; Labtek Division
Last modified: November 06, 2012