Meiji VM Series Video Microscopes
| | |
| --- | --- |
| | MEIJI VM SERIES VIDEO MICROSCOPES |
The VM Series high-resolution video microscopes have been specifically designed for viewing small electronic components, wave-guides, electro-mechanical assemblies, medical devices, seals, fibers, catheters, etc., which require high magnification visual inspection. The VM Series microscopes integrate a CCD video camera, fiber optic illumination system, and high-resolution "infinity corrected" optics, and are ideal for use in factory automation and machine vision systems.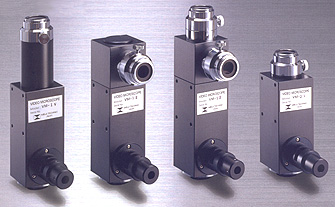 Outstanding high-resolution image.
Choice of objectives from 4X to 100X.
On screen video magnification from 110.06X to 5,503.3X (using 1/3" CCD camera and 13" color monitor).
Accepts all infinity corrected objectives with RMS thread and 200mm focal length.
Compact size: 7" x 2" (180mm x 45mm).
Light weight: 1.38 lb. (0.63 kg).
Machine mountable: Four 4mm x 6mm threaded mounting holes are provided on three faces.
Coaxial "cool light" illumination with variable intensity light control.
Choice of configurations.
Optional filter sets available.

An ideal system for inspection and alignment on machine vision systems, or in quality control or quality assurance applications.
Machine mountable for difficult to access areas.
Can be used with a variety of peripheral equipment: Video micrometers, video printers, VCR's, image archive systems, etc.
Multiple magnifications with interchangeable objective lenses.
Flexible configurations for OEM applications.
Portable, rugged, and ideally suited for remote site inspection.
Infinity corrected optics.
VM-1V with CK3900 Camera, and
FL150 Light Source & FL150/95 Light Guide
VM-PC Stand
Model
VM-1V
VM-1H
VM-1D
VM-2V
Video Mount
"C" Mount
Orientation of CCD Camera
Vertical
Horizontal
Vertical/Horiz.
Vertical
Magnification of Built-in Tube Lens
1.0X
0.5X
For more information or a price quote, please contact Labtek at 408-871-7700, fax 408-871-7800, or email at labtekdiv@labtek.net.
[Home] [Microscopes] [Illumination] [Video & Lenses] [Measuring]
[Services] [Vendor List] [Specials]
Copyright © 1998, Terran Technology, Inc.; Labtek Division
Last modified: November 06, 2012